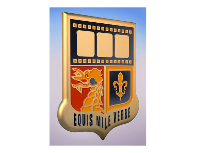 Dr. E

rik Villard, the Vietnam historian at the Center for Military History has invited all members of the 221st to submit "their favorite Vietnam photo and the story behind it." The purpose is to begin the process of forming an exhibit that would become a permanent part of the new National Museum of the US Army which is scheduled to open in Sept 2019.
To submit, you must have both an image to upload and the story to go with it. At this point, the photo should be something you shot yourself (whether official or not) or a photo with you in it. The story to go with it should be no longer than roughly half a sheet of paper, or two short paragraphs at most.
Keep in mind that this is a "work in progress" and only one idea for achieving the goal of having the 221st represented in the halls of this new important National Museum. Therefore your response to this request is important. We need timely and thoughtful responses to get this thing kick started.
The sample submission on the right is offered temporarily as a template. I will endeavor to change the "sample" from time to time as things get going.
Suggestions and comments are welcome and should be forwarded to pberk@berks.com.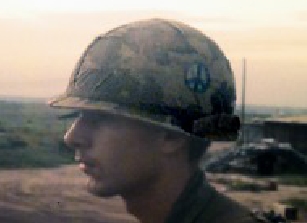 In the summer of 1969, I took this shot at Camp Ray near Bien Hoa. This was the 101st Airborne's in country training center. I called it Jungle School but they called it in country training. All newly arrived GI's of the 101st went through this intensive 3 day school. Same same for all newly arrived Combat Photographers from the 221st Signal Company. We were there to do the training, but naturally, we brought our cameras to document the school.
This particular shot is a favorite of mine since it shows this newly arrived troop already has a peace symbol on his helmet liner. Not exactly gung ho – but it occurred to me at the time that this is exactly what we were fighting for. Later on, with some frequency, I would see peace symbols, not only on helmet liners, but on top of hooches, around people's necks or drawn on their vehicles. But you would never see such a thing displayed by the VC or the NVA. Therein was the difference.
– 1Lt Paul Berkowitz, 221st Signal Company (Pictorial) 69-70
SUBMIT YOUR PHOTO AND STORY BELOW