221st & SEAPC REUNION 2022
Sept 15, 2022 to Sept 19, 2022
WHERE AND WHEN AND HOW MUCH?
Reunion dates were Thursday, Sept 15, 2022 (arrival day) through Monday, Sept 19, 2022 (departure day) at the Hilton Hotel in old town Alexandria, Virginia on King Street. We had a special group rate of $129 per night plus any city and state fees that apply.
THE METRO
A two minute walk from the hotel is the King's street DC Metro stop. This gives us easy access to numerous destinations in Washington without the use of a car. But bad luck, the Metro was under construction and not running in Alexandria.
THE VIETNAM WALL - THE PENTAGON - ARLINGTON
ALL NATIONAL MUSEUMS AND MONUMENTS ON THE MALL
REAGAN NATIONAL AIRPORT (DCA)
FREE KING STREET TROLLEY

A two minute walk from the hotel, The King Street Trolley transports riders between the King Street Metrorail Station and the Potomac River waterfront. The trolley is free of charge and runs daily,
every 10 - 15 minutes with many stops for hopping on and off to explore the shops, restaurants and attractions found along Alexandria's historic main street.
EVENTS: Meeting on Friday morning, Sept 16th followed by Luncheon. Free time on Saturday, Sept 17th and Sunday Sept 18th. Closing reception and banquet in the Museum Veteran's Hall, Sunday, Sept 18th.

NEW ARMY MUSEUM
Our plan is to allow time to visit the museum. Everyone must get there on their own. No group tour.
MEALS
We will have a LUNCHEON on FRIDAY Sept 16, 2022 (in the hotel) and our closing BANQUET (in the Army Museum Veterans Hall) on Sunday, Sept 18, 2022. These two meals are included in the $150 per person registration fee. Otherwise, meals are on your own.
FREE TIME
At the Reunion, there will be lots of free time on Saturday and Sunday to visit the sights in Washington (via the Metro) or the newly opened National Museum of the US Army (NM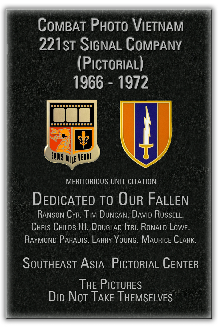 USA) which is located just off the base at Fort Belvoir, about 12 miles from the Hotel. On display at the Museum will be the 221st & SEAPC participation including bricks located on the walk of remembrance commemorating our 221st fallen, a 221st engraved unit listing (Bronze Star Level) on the special donors wall plaque located in the Museum's central Veteran's Hall and most impressive, a 221st Unit Tribute Plaque as shown here.
REGISTRATION FEE - subject to change as costs become known.
The $150 per person registration fee will include your reunion badge, meeting space, hospitality suite, audio/visual support, free internet in your room, food service and gratuity for our Friday Luncheon and our Sunday Closing Banquet. Besides the luncheon and Banquet, all other meals will be on your own. There are numerous downtown restaurants near the hotel.
PLEASE USE THE ADJACENT SIGN UP FORM.
SIGNING UP WILL HELP TREMENDOUSLY
WITH REUNION PLANNING . IF YOU SIGNED UP PREVIOUSLY FOR 2021, YOU DO NOT HAVE TO SIGN UP AGAIN.
REG FEES are now due.
Send to:
Paul Berkowitz
23931 Plaza Gavilan
Valencia, Ca 91355
If you already sent in your reg fees for the delayed 2021 Reunion, they are being rolled over into the 2022 Reunion or can be refunded on request.
Any questions: pberk@berks.com